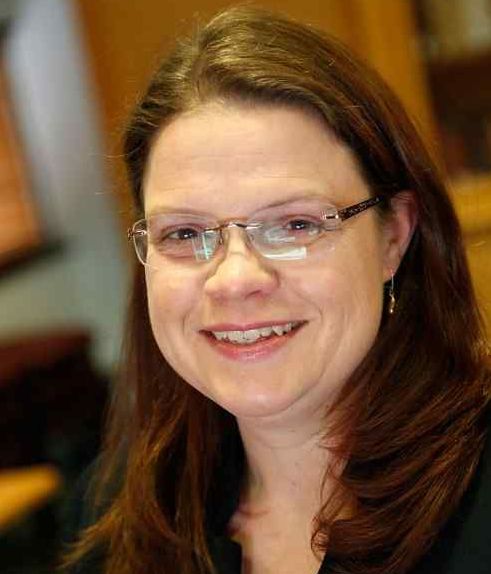 Ursula Herz is the Director of Residential Life and Associate Dean of Students at Washington College in Chestertown, MD.  Her work in Residential Life or while wearing her Dean "hat" can vary wildly between sinks causing floods, helping students in crisis, conducting judicial hearings, working with construction companies on a renovation, and creating educational or informative media on topics ranging from policy to social justice issues. She says, "Understanding the daily lives, motivations, challenges of students and advocating for them to other departments, the College as a whole, or the local community underlies everything I do in my position."
She says that her regular day-to-day work isn't necessarily fascinating, but she takes pride in her opportunities for initiatives.  "One project I completed last year and continue to maintain is the Book Pantry on campus. This project brought together students and community members who wanted to donate textbooks and students who cannot afford textbooks. Students and community members donate textbooks, cookbooks, and 'for fun; books. The response from faculty and staff added hundreds of volumes from their office bookshelves and homes. Items used for classes are put into a Book Pantry that is open to all students and they are free to borrow or keep books they need for their classes. Any donated cookbooks go into the residence hall community kitchens for students to use and other books are placed into residence hall lounge bookshelves. It's a project that combined service, sustainability, and academics.  The Library has also expressed interest in taking some of the more expensive items assigned every year into their collection as limited-time check-out items to increase their availability.  I was really surprised at the volume of response to my call for donations and faculty/staff were very happy to have a great place to donate excess books."
Ursula's experiences in Residential Life administration began while she was a graduate student.  "While I was at Catholic University working on my master's degree, a friend suggested I apply to be a graduate R.A.   I lived in Gibbons and was in charge of Gibbons, Seton, and Caldwell. Not only did it provide housing, but it also taught me a great deal about interacting with a diversity of people, when they were at their best, when they weren't, and when they were in crisis. I then moved up to be an Assistant Area Coordinator (in Centennial Village), then an Area Coordinator (back to Gibbons, then to North campus). Counseling, advising, holding students accountable, and emergency response are central to every job in Residential Life. My plan had been to work in Residential Life while continuing after my masters to earn my Ph.D. Unfortunately, there were some challenges to my pursuing the Ph.D., but I really enjoyed the challenges working with students outside of the classroom, helping them succeed.
"I am asked this question often, and always at any job interview: 'How does a history degree help you in Residential Life?' Simply put, history studies what people did and why they did it: it's the study of people, but in the past, the decisions people made and what resulted, how people interacted within their communities and outside, how they confronted challenges and either overcame them or failed to."
Ursula also volunteers at Mt. Harmon Plantation (a historical site in Earleville, Cecil County, Maryland) and demonstrates open-hearth cooking and other 18th century domestic and related skills. "Included in my section of the tour is the newly constructed slave cabin, and this has pushed me to research and learn more about 18th century slavery. Every day I learn something new and I incorporate it into educational chats with guests. Right now, I'm preparing to recreate a runaway slave's clothing as described in a runaway ad for display in the cabin."
Reflecting on perspectives she might offer current students, she says "As a first generation student, I didn't know or understand that there were resources to help graduate students until it was too late. Ask questions, ask multiple offices the same question, and advocate for yourself. As a first generation, you simply don't know what you don't know, what is normal and what is not. Being aware of that is critical."