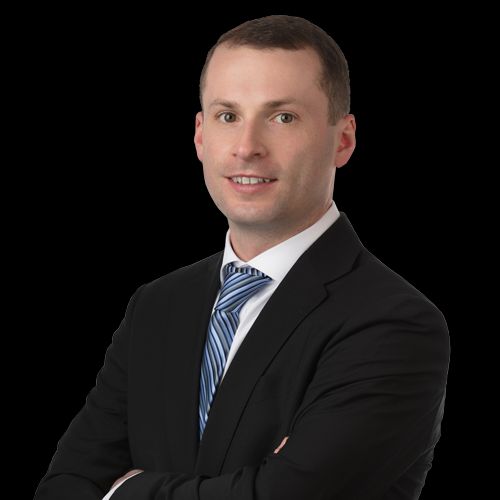 Robert Foster graduated from CUA in 2009 with a B.A. in History.  he also took advanced classes in Spanish.  Following graduation, he taught Spanish II at Father Judge High School in Philadelphia, PA from 2009 to 2010.  He then attended Rutgers University School of Law-Camden, from 2010 to 2013.  While in law school, Robert interned for the Hon. Thomas N. O'Neill, Jr., CUA '50. 
Since graduating from Rutgers, Robert has been admitted to the bar in Pennsylvania, New Jersey and Washington, DC.  While employed as an attorney at an AmLaw100 firm in 2014, he accepted a commission in the U.S. Army Reserve (USAR) as a Judge Advocate and attended the Direct Officer Commission Course at Fort Benning, GA and the Basic Officer Leadership Course in Charlottesville, VA.
Following the completion of these courses, Robert performed an Overseas Deployment Training to Kaiserslautern, Germany and returned to private practice in January 2015.  From September 2015 to August 2016, he was mobilized to III Corps and Fort Hood, TX where he served as a civil law attorney and then as a trial counsel (prosecutor).  He was the trial counsel assigned to the Commanding General, Operational Test Command; the Garrison Commander, U.S. Army Garrison Fort Hood; and to the Commander, Headquarters and Headquarters Battalion, III Corps.
Robert is currently a Captain in the USAR and is assigned to the 10th Legal Operations Detachment in Gaithersburg, MD and is an associate at the law firm of Eckert Seamans Cherin & Mellott LLC in Washington DC, specializing in aviation and aerospace law. 
Robert appreciates his time at CUA because the curriculum is designed to teach a student that learning is a lifelong endeavor.  The first step in that endeavor is to learn how to learn.  If nothing else, a history degree from CUA taught him that learning is a lifelong pursuit and that learning, as a skill, can be applied to any situation throughout a career and in both public and private life.  A history degree is not about tests or reading lists.  Rather, he learned that collaboration with peers and professors led to the discovery of academic skills that are vital in succeeding as a teacher, an attorney, an Army officer and a husband.  He trusts that the list will grow in the future, but the foundation started as an unsure history student over a decade ago.