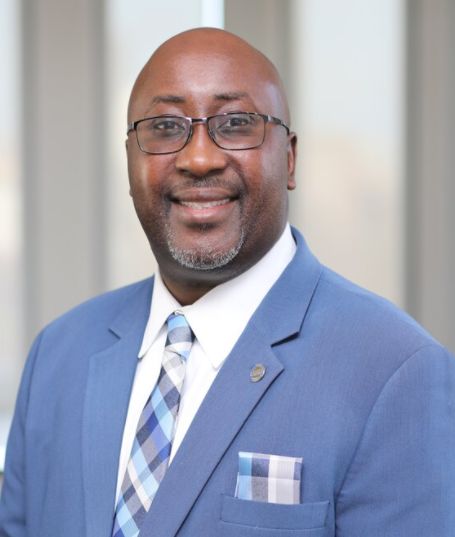 Rashaun Martin's dedication to Catholic University and the Catholic church is multi-faceted.  He is past president of the University's Alumni Association and Board of Governors, and was a member of the National Catholic Students Association and worked for Campus Ministry while an undergraduate.  His record of service has included the Boston Advisory Board of Catholic Charities, and he was also the Grand Knight for the local council of the Knights of Saint Peter Claver.  His dedication to history is equally obvious.  He has served as the Interim Education Manager at the U.S.S. Constitution Museum and the Museum's Board of Trustees, and recently he was appointed to the Executive Council for the Colonial Society of Massachusetts.  He has traveled the world extensively, visiting the countries of Barbados, Grenada, Dominica, Jamaica, St. Lucia, Antigua, Grand Cayman, Italy, Ireland, Australia, Mexico, China, and Spain.
Rashaun's current position as the Educators of Color Cultivation and Retention Specialist for Boston Public Schools was originally a Human Capital position, and it has recently moved to the Division of Strategy and Equity. Rashaun is part of the Office of Recruitment, Cultivation and Diversity Programs. "In this capacity, I support the more than 6500 employees in the Boston Public Schools who identify themselves as Educators of Color. Given the underrepresentation of minority professionals in the education space, it is my job to support retention of a diverse workforce. I do that through coaching, licensure help, degree completion support, and professional development assistance, and networking. Currently, in light of the recent racial unrest in our country, I am supporting the development of racial affinity groups for our employees."
After Rashaun graduated from Catholic University with a B.A. History, he returned home to Boston to begin his teaching career as a middle and high school history teacher. He taught early American History, Ancient History and U.S. Government and Politics. During that time he earned a Master's in Teaching from Simmons College.  He taught history for seven years, and eventually became the History Department chair at Boston Latin School – his high school alma mater – after earning an advanced degree in education leadership.  Under his leadership, the number of students taking social studies courses increased, especially in Advanced Placement, and he introduced courses in American Foreign Policy and the History of Art and Architecture.  He served on the statewide committee to develop new standards for the teaching of History and Social Studies for the Commonwealth of Massachusetts.
"After serving five years as the Department chair, I became a Catholic school principal, and then eventually served as the Director for Social Studies for an entire school district north of Boston, which I did for seven years until taking my current position.  I used my research and analytical skills in a variety of arenas – state government, insurance companies, and federal courts, for instance – but ultimately I decided that I enjoyed academia the most."
Reflecting on the ways that studying History at Catholic University has benefitted his career, Rashaun says "I was exposed to such a wide variety of issues and historical perspectives, which I bring to my job every day. In fact, my colleagues look forward to me tying the past into our everyday work. Interestingly enough, I have been relying on my experience in my Civil Rights history class recently as I was introduced to the movement and the memoir written by John Lewis, which to this day is one of the best required reads of any of my history classes. I just really enjoyed all of the classes that I took and because all of the professors were able to look beyond the dates and dead guys and made us understand all the important connections of the past to the present."
Thinking about perspectives he might offer current students, Rashaun offers this: "I wish I'd had a little more sense of urgency in studying history when I was a student. The pace in my current work is really fast, and I have to understand and process a lot of information and data in a very short period of time, and then to present it to various constituent groups and stakeholders. So, when you're told to read, you have to do it thoroughly, and when you're asked to write, you have to do it very carefully, and I didn't really get strong in those skills until I was a senior and am certainly an expert reader and writer in my current profession."