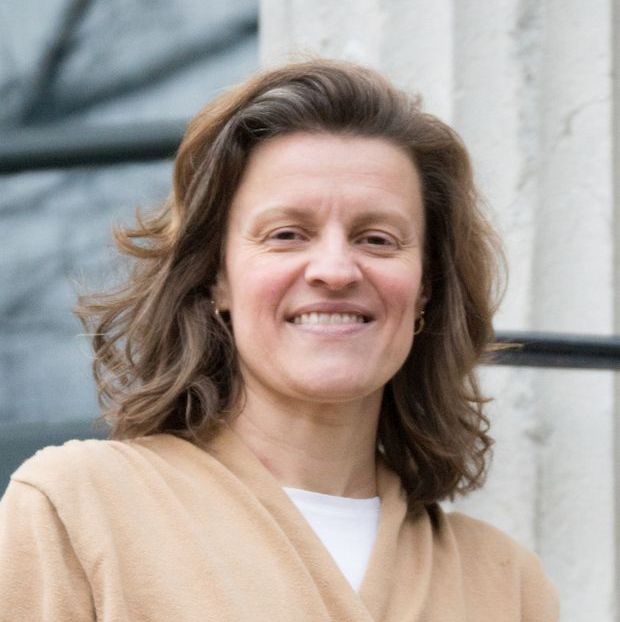 After serving as curator of the Everhart Museum of Natural History, Science, and Art in Scranton, PA, and before that as manager of exhibitions and collections at the Berkshire Museum in Pittsfield, MA, Nezka Pfeifer moved to St. Louis in late February 2018 to take the job of Museum Curator at the Missouri Botanical Garden. 
She notes that the Garden was "just finishing up the renovation/restoration of its historic museum building to reopen to the public, not just as an attraction on the grounds of the Garden, but to function as a Museum on the site, interpreting the stories of all the work the Garden does in St. Louis, the region, the nation, and the world.  Despite the fact that the Stephen and Peter Sachs Museum (as it's now called) was built when the Garden opened to the public in 1859/1860, it had not functioned as a museum with collections and exhibitions since the death of Garden founder Henry Shaw in 1889.  Besides with being tasked to curate the history and botany that has taken place at the Garden (it became world-renowned for plant taxonomy, or naming plant species), today the Garden is also a leader in horticulture, sustainability, and conservation, and it also maintains and grows one of the world's largest herbarium collections (preserved plant materials for use in science), numbering over 7 million specimens.  As the Museum Curator, I was uniquely poised to do a job that is rare in the museum field, in tying many disciplines together – specifically, science, art, and history – to tell a myriad of narratives from the Garden's perspective.
"I am often meeting with my colleagues around the Garden to understand their special projects, whether that is with the Horticulture staff who maintains all the gardens we have on our 79-acre site in St. Louis, as well as our satellite sites outside of the city, which include Shaw Nature Reserve and the Sachs Butterfly House (an insectarium and butterfly conservatory).  My colleagues also request special tours or presentations from me on what I'm working on at the Museum, or research that I'm doing so that I can share it with colleagues but also our visitors, volunteers, member councils, and board members.  I spend a lot of time reaching out to other cultural organizations around St. Louis to see how we could collaborate on future projects, and I also keep in touch with my entire network of museum peers to ask their advice as well as get their suggestions from their point of expertise, ranging from integrated pest management (policies for preventative measures to keep insects from ravaging items, including objects or building materials) to artwork conservation to identifying specialist scholars in a subject that I am focusing on for an upcoming exhibition.  I spend a lot of time attending art gallery openings or checking out other museum exhibitions so that I have a concise picture of the complex arts and culture landscape here in St. Louis, but also so that I can meet artists, collectors, scholars, scientists, students, and other curators who I could also work with in future on a special project.
"The nuts and bolts of curating exhibitions also includes selecting objects for display, as well as planning the exhibition layout and design, writing text and getting it to the designers for output of text panels and labels, installing the work and setting up the display, and getting the basic information to the communications staff so that they are able to promote the project when it's completed.  Most importantly, I am often interacting with the public, getting feedback or questions on curatorial choices in the Museum, as well as looking for deeper information on something that has piqued their interest. When I first arrived there were a few exhibitions already lined up that the staff and leadership want to see at the Museum in its first year, but in my second year, I've had the chance to curate a specially focused exhibition, which enabled me to use my experience in interdisciplinary curation in a more concrete way. For the Museum's first anniversary of being reopened to the public, I curated a show on the plants that make paper, which looks at the history, botany, and art of paper and papermaking around the world, and included two special commissions by St. Louis artist papermakers that highlighted the Garden and its work, as well as a presentation of the cultural traditions of papermaking in different countries and a display of internationally renowned origami artists."
Nezka points to the many very direct connections between studying history at Catholic University and her experience as a museum curator throughout her career.  "Rigorous and inventive historical research, documentation, and scholarship are the most important underpinnings of any project I undertake.  I need to quickly absorb a great deal of information, history, and context on a subject I may not know much about, and then be able to carefully inform and guide the visitors who encounter the exhibition I have curated into understanding the subject, but also to give them the opportunity to think critically for themselves about what I have presented to them.  One thing that I also learned about myself while a Catholic University student was that I knew I wanted to be a generalist and not pursue a specialized field of study, and working in museums was the perfect dovetail for me.  I went to graduate school in a program that had a generalist approach, and each of the jobs that I have held have given me opportunities to learn about new fields of study that I didn't have a lot of preparation for, or I was working with collections that gave me the chance to understand other fields entirely, such as botany, ornithology, and medicine.  Therefore, my position required me to learn quickly, and yet also in depth, so that I could communicate clearly to the public as well as my colleagues as to the work that I was doing, but also how it fit into the larger strategic goals of the organization. There hasn't been a day in my professional life that I have not recognized and appreciated the great education that I had as a history student at Catholic."
Having chosen a career with a direct connection to the field of history, Nezka reflects that she would like to have known earlier that there is a lot of flexibility in what someone can choose to do with a degree in history.  "As a student, you are given the tools of how to critically analyze, and that is such an incredibly useful skill in life, as well as in work, and yet it can be applied to understanding a wide variety of information, not purely historical research. I also think that the skills you learn when you do the work of historical research gives you the tools to think in the specificity as well as the abstract, which is so important if you are to understand not only the past of what you have done, but the potential growth that you can pursue into in the future."