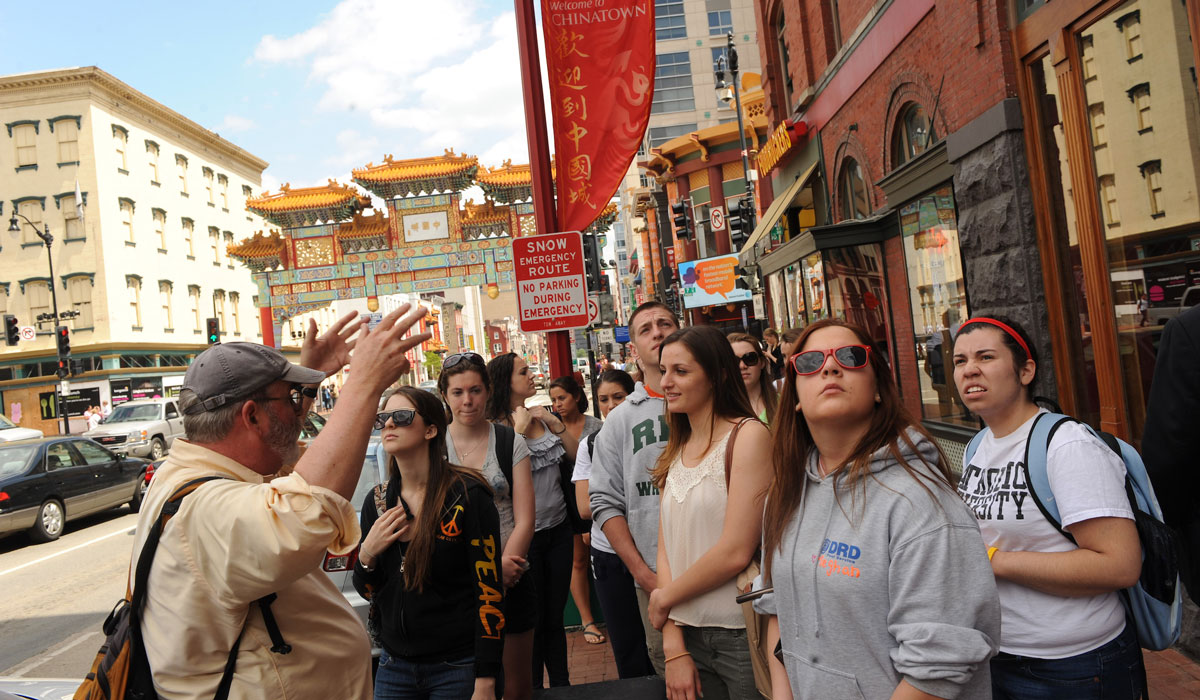 Below is the syllabus for the Spring 2016 WASH 101 course. Current course syllabi may vary. 
The Catholic University of America
Washington Past and Present: An Introductory Study
WASH 101- Spring 2016
SECTIONS MEET: Either Tuesdays, 11:10-12:00, Wednesdays, 12:40-1:30, or Thursdays, 12:40-1:30. Discussion sections meet separately with assigned instructor in specified classroom.
ENTIRE CLASS MEETS: Fridays 12:40-2:30 PM, in Hannan 106.
Instructors:
Laura Daughtery (Th. section): NCSSS, 110 Shahan, daughtery@cua.edu, x5782
Matthew Green (Wed. section): Politics, 315 Marist, greenm@cua.edu, x5667
Maria Mazzenga (Tues. section): History, 245 Marist, mazzenga@cua.edu, x5484
Atlas Xu (Teaching Assistant): History, 67xu@cua.edu
Course Description:
In this interdisciplinary course, students will learn about the past and present of Washington, D.C. and how the city illustrates a variety of theories and principles from different academic disciplines, including anthropology, art and architecture, economics, history, literature, media studies, political science, social work, and sociology.
Students will examine Washington as a symbolic city (the design and meaning of its buildings, monuments, and museums), a political city (the behavior of national and local policy-makers, diplomats, and other political actors in Washington), and a living city (the city's economy, neighborhoods, culture, and population). In addition, the course emphasizes the importance of students learning how to ask probing questions about their environment, gather and analyze data to answer them, and effectively communicate their answers.
Methods:
Lectures, guest lectures, discussions, and excursions to the city. Students must be willing to ride the Metro for periodic city excursions and must pay for their own Metro tickets.
Required Readings:
Green, Matthew N., Julie Yarwood, Laura Daughtery, and Maria Mazzenga, Washington 101: An Introduction to the Nation's Capital (Palgrave 2014) (available in CUA bookstore)
Any additional required readings, websites, or videos will be available on Library E-reserves and/or Blackboard.
Course Goals:
Learn how to think critically, gather and analyze data and information, construct interpretations and arguments, and present or communicate ideas effectively.
Learn to appreciate how different disciplines employ various methods to answer questions.
Learn to think intelligently about community.
Goals for Student Learning:
Learn about the history, politics, and social and economic life of Washington.
Learn about the relationship between the national and the local.
Understand the development of cities, the modern city, and in particular how neighborhoods are created and change.
Requirements and Grading:
Two papers (3-5 pages in length each), worth 30% of the grade (15% each).
Three short on-line quizzes,

worth 15% of the grade (5% each).

Final exam

, worth 30% of the grade.

Additional short homework assignments

, worth 10% of the grade.

Class attendance and participation

, worth 15% of the grade.
Class/Reading Schedule
Note: The schedule indicates the reading(s) that need to have been completed for that day's class. Unless noted, all readings apart from the course text can be found on the course Blackboard site.
I. INTRODUCTION
Week 1: Catholic University
Week 2: History of the City of Washington
T/W/Th

1/19,

1/20,

1/21

* Berg, Grand Avenues, 77-81, 100-112

* Trollope, "The Domestic Manners of the Americans" (excerpt)

Friday

1/22

Guest Speakers: Doxie McCoy and Robert Barbuto, long-time Washingtonians
II. THE SYMBOLIC CITY
Week 3: Symbolism and Architecture
T/W

1/26, 1/27

NO CLASS THURSDAY (UNIVERSITY MASS)

* Green et al., chapter 1

Friday

1/29

Excursion: in individual sections
Week 4: Memorials and Monuments
| | | |
| --- | --- | --- |
| T/W/Th | 2/2, 2/3, 2/4 | * Green et al., chapter 2 |
| Friday | 2/5 | Guest Speakers: Vietnam Veterans; Thomas Striegel, Architect |
** Quiz #1 Posted **
Week 5: Memory and Politics on the Mall
T/W/Th

2/9, 2/10, 2/11

* Green et al., chapter 3

Paper #1 assigned

Friday

2/12

Guest Speakers: Michael Neufeld, National Air and Space Museum; John Franklin, National Museum of African American History and Culture
III. THE POLITICAL CITY
Week 6: Protest and Politics
T/W/Th

2/16, 2/17, 2/18

* Green et al, chapter 5

Friday

2/19

Guest Speakers: Representative, Youth Rally & Mass for Life; John Dillon, United States Park Police

Paper #1 DUE
Week 7: The Washington Political Community
W/Th

2/24, 2/25

NO CLASS TUESDAY (ADMIN. MONDAY)

* Green et al., chapter 4

Friday

2/26

Guest Speakers: Jessica Towhey, former congressional and campaign aide; Zach Dupont, Office of Rep. Richard Neal; Drake Starling, World Bank
Week 8: SPRING RECESS: NO CLASS (SPRING BREAK)
Week 9: National Politics
| | | |
| --- | --- | --- |
| T/W/Th | 3/8, 3/9, 3/10 | * Re-read Green et al., chapter 4 |
| Friday | 3/11 | Excursion: self-guided assignment |
** Quiz #2 Posted **
Week 10: The International City
| | | |
| --- | --- | --- |
| T/W/Th | 3/15, 3/16, 3/17 | * Green et al., chapter 6 |
| Friday | 3/18 | Excursion in individual sections |
Week 11: Local Politics
| | | |
| --- | --- | --- |
| T/W | 3/22, 3/23 | NO CLASS THURSDAY (EASTER RECESS) |
| | 3/25 | NO CLASS (EASTER RECESS) |

Week 12: Local Politics (cont.)
T/W/Th

3/29, 3/30, 3/31

* Green et al., chapter 7

Paper #2 Assigned

Friday

4/1

Guest Speakers: TBA
Week 13: Local Economics
T/W/Th

4/5, 4/6, 4/7

* Green et al., chapter 9

Paper #2 Due

Friday

4/8

Guest Speakers: James C. Dinegar, President and CEO, Greater Washington Board of Trade (tentative); Linda Donaldson, National Catholic School of Social Service
IV. THE LIVING CITY
Week 14: Demographics
| | | |
| --- | --- | --- |
| T/W/Th | 4/12, 4/13, 4/14 | * Green et al., chapter 8 |
| Friday | 4/15 | NO CLASS (RESEARCH DAY) |
** Quiz #3 Posted **
Week 15: Neighborhoods I
T/W/Th

4/19, 4/20

4/21

* Green et al., chapter 10

Friday

4/22

Guest Speaker: John Feeley

Excursion: Brookland Walking Tour
Week 16: Neighborhoods II
T/Th

4/26, 4/27, 4/28

NO CLASS WEDNESDAY (READING DAY)

Readings will be assigned for each section by instructors

Friday

4/29

Excursion: in individual sections
FINAL EXAM:
| | | |
| --- | --- | --- |
| Friday | 5/6 | Final Exam: 10:15am - 12:15pm |