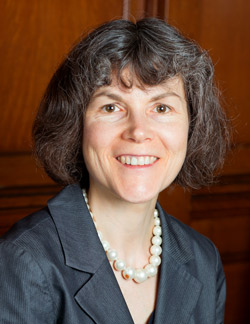 Department
History
School
School of Arts and Sciences
Expertise
Medieval England
Medieval Ireland
Medieval monasticism
Jennifer Paxton is working on a book manuscript entitled Chronicle and Community in Twelfth-Century England, which looks at the ways in which medieval English monastic communities used historical texts to assert various claims to power and authority in a rapidly changing political, economic, and spiritual landscape. She is focusing on chronicles written at eastern English monasteries in the aftermath of the great upheavals of the Norman Conquest and the civil war of King Stephen's reign, in which monastic compilers deployed every resource at their command to distinguish themselves from rival houses and defend themselves against the sometimes aggressive claims of lay lords and even bishops. Dr. Paxton is also working on a further project that examines changing views of abbatial leadership across the Anglo-Norman world in the eleventh and twelfth centuries.
  Click here for vita.
Selected Publications
Jennifer Paxton, "Lords and Monks: Creating an Ideal of Noble Power in Monastic Chronicles", in Robert F. Berkhofer III, Alan Cooper, and Adam J. Costo, ed., The Experience of Power in Medieval Europe, 950-1350 (Ashgate, 2005), 227-36
Jennifer Paxton, "Textual Communities in the English Fenlands: A Lay Audience for Monastic Chronicles?" Anglo-Norman Studies 26 (2004 for 2003), 123-37
Jennifer Paxton, "Forging Communities: Memory and Identity in Post-Conquest England," Haskins Society Journal 10 (2002 for 2001), 95-109
Jennifer Paxton, "Monks and Bishops: The Purpose of the Liber Eliensis," Haskins Society Journal 11 (2003 for 1998), 17-30
Jennifer Paxton, "The Book of Ely," in T. F. Head, ed., Medieval Hagiography: A Sourcebook (Garland, 2000), 459-94.
Lecture Series: The Great Courses
The Celtic World

 

Learn more

The Story of Medieval England:
From King Arthur to the Tudor Conquest

 

Learn more

1066: The Year that Changed Everything