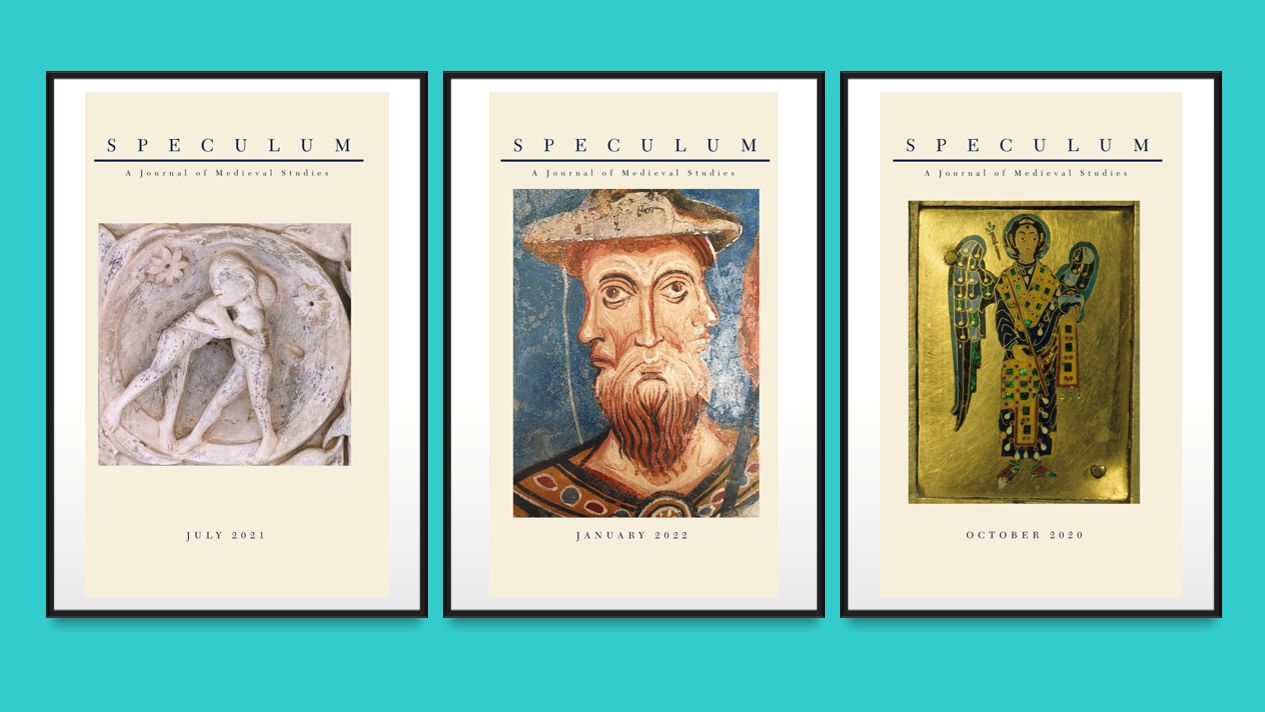 Professor Jansen's Editorship of Premier Medieval Studies Journal Yields Opportunities for Department and Students
Speculum: A Journal of Medieval Studies is the most highly regarded academic journal in the English-speaking world focused upon research into the Middle Ages.  Dr. Katherine L. Jansen, Ordinary Professor of History at the Catholic University of America, and as of 2020 an elected Fellow of the Medieval Academy of America (on whose behalf Speculum is published), became the journal's Editor in 2019.  Moving the journal's editorial operations to McMahon Hall on Catholic University's campus has heightened the university's profile as a center for medieval studies, and has also given students in History and related programs some wonderful opportunities for professional development.
Professor Jansen explains: "I was selected as Editor of Speculum through an open search, much like most academic job searches.  The Medieval Academy of America was looking to partner with a university and move the journal's operations to the new Editor's home institution, so it seemed the time was ripe.  Once it became clear that the MAA was interested in my candidacy, I discussed the opportunity with then Dean of Arts and Sciences (and now Provost) Aaron Dominguez, who from the beginning was very supportive and enthusiastic about bringing the entire operation to campus.  Bringing the journal to campus also posed its own set of challenges in having to set up from scratch an entire administrative structure to support the journal and integrate it into Catholic's various administrative offices.  And the pandemic.  Did I mention the pandemic?  That of course brought its own set of challenges when we had to turn on a dime and go entirely virtual just like everyone else in the world."
The journal publishes four issues each year, each typically including five articles and 75-100 book reviews, lists of Books Received and Brief Notices.  The production calendar means that at any given time, Professor Jansen and her staff are working on at least two issues, which will appear in print six months or more later.  She notes: "The rhythms are entirely different from the rhythms of academic life and that has been one of the most challenging adjustments.  We have an elaborate editorial process which includes line-editing, formatting everything to house style, and copy-editing, before sending everything off for composition and type-setting.  Once the proofs come back the entire staff is involved in a collaborative proofing process with the authors.  This is repeated when the galleys of the entire issue are assembled. It is a very detail-oriented process, but one that is very much appreciated by our authors and readers."
One vantage that the journal's move to campus has afforded to Professor Jansen and the staff and students who work with her is that it has provided them a sense of where the field of medieval studies is today and where it moving.  "One sees how contemporary issues continue to influence the field – not just history – but also literature, art history, music, philosophy, and religious studies.  Eco-criticism and environmental history are trending now, as is attention to global medieval studies, and work on race and race-thinking."  Recent special issues – coupled, especially since the onset of Covid, with webinars and other online platforms – have focused on subjects such as "Emerging Issues in Medieval Iberian Studies" and, topically, "Death, Disease and Healing," focusing particularly on new research into medieval plague and related topics.
Professor Jansen reflects that the journal's move to our campus has been a great boon to the university in many ways.  "Most everyone in the field of medieval studies knows Speculum is now housed at Catholic University, and having the most prestigious English-language journal of medieval studies here is, I think, a way of burnishing the university's reputation for supporting scholarly work in the humanities, and particularly medieval studies.  Medieval studies is an area of research where the university traditionally has had great strengths, especially as embodied in the Center for Medieval and Byzantine Studies, and the faculty in the Department of History.  Where else in the United States do you find five world-renowned medieval historians in one department?!"
She finds it particularly rewarding to be able to mentor authors and encourage graduate students and early-career scholars, as well as to enhance the diversity of the journal's Editorial Board and Book Review Board.   Just as importantly for the Department of History and other closely related programs, her editorship has provided some remarkable opportunities for current and recent students.  "We've been able to employ some of our super-talented graduate and undergraduate students on the staff or have them serve as apprentices at the journal.  Carol Anderson (Ph.D. 2019, History) is now Associate Editor in charge of the Book Review section, after working her way up through the ranks from Editorial Assistant.  Aaron Gies (Ph.D. 2018, Theology and Religious Studies) is currently working for the journal as proof-reader.  Jane Maschue (Ph.D. student, History) has just come aboard in the role of Editorial Assistant.  In this contemporary environment where tenure-track opportunities are so few and far between, this is one way of offering our students some hands-on experience, a salary, and a possible career path into academic publishing."
Jane Maschue elaborates: "I am very excited for the opportunity to join the team at Speculum as Editorial Assistant. My duties involve me in a number of aspects of production: I assist in formatting and editing articles for publication, a wonderful opportunity to understand the process and elements of scholarly publication. I am also heavily involved in ordering and receiving new books in medieval studies and assisting with the process of assigning reviews and sending titles to reviewers. This work puts me in touch with the major currents and themes in the publishing world in medieval history, literature, and culture. This is helpful for me in my own scholarship, as I am in the midst of researching and writing my dissertation: my work gives me the opportunity to stay abreast of the latest research in my own interests as well as the many other disciplines which Speculum covers." 
Carol Anderson adds: "Working for Speculum in the positions of Editorial Assistant and now Associate Editor has allowed me to develop my editing skills while staying informed about current research trends and debates in medieval studies. I am fortunate to have the opportunity to interact with talented medievalists from many different fields, and I enjoy working with them to improve the content and clarity of their submissions."
Speculum also offers undergraduate students opportunities to apprentice at the journal as interns and receive course credit for the work they do.  "And it is meaningful work," Professor Jansen observes.  "They compile the scholarly back matter for the journal and assist in communications with the major publishing houses.   In the end, for a few hours every week during the course of one semester, they have dipped their toes into the world of academic publishing and in the process added an impressive line to their resumes. They also have the satisfaction of seeing their names printed on the Speculum masthead in at least one issue!"
And the students most certainly agree.  Madeleine Smith (senior History major) was an editorial intern for the journal in Spring 2022.  She says: "I was responsible for contacting different publishing houses about the books and articles my boss and I were interested in.  I was able to contact publishers throughout the United States, as well as England, Canada, France, Germany, and Italy to receive information about new articles and books that researched the medieval period. It was an incredible internship to have, and I enjoyed learning more about how academic publishing works."