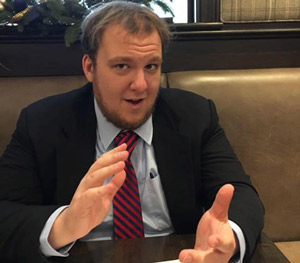 Meet our Newest Professor
In Fall 2017, Dr. Samuel K. Fisher will join the Department of History as Assistant Professor, fresh from his Ph.D. at the University of Notre Dame.  Sam's historical interests are in early America and the North Atlantic world in the early-modern period.  He's firmly committed to the comparative approach.  His current research project is entitled Fit Instruments: Gaels, Indians, and the Making and Unmaking of Britain's Empire 1688-1783. The project examines the experiences of three different groups of marginalized people in the eighteenth-century British empire – Native Americans, Irish Gaels, and Scottish Gaels (Highlanders) – in order to understand better the role of race and exclusion in the origins of the American Revolution. The study draws on Native American council speeches as well as Gaelic-language poetry (in Irish and Scottish Gaelic).
"I'm really excited to be coming to a department where I'll have the opportunity to contribute not only in American history but also in British and Irish history too," Sam says. "It's not always easy to fit in as a comparativist, but I feel right at home here."  Dr. Katherine Jansen, chair of the Department, echoes that sentiment:  "As a relatively small department, we're on the lookout for scholars who can wear multiple hats, and Sam fits that bill perfectly.  We're thrilled he'll be joining us."   Sam's first course offerings will reflect his diverse interests. In the Fall 2017 semester he will be teaching "Ireland, 1541-1800: Kingdom, Colony, Province (and Nation?)" and an undergraduate research seminar on the topic of "Civility, Savagery, and Rebellion in the British Atlantic, 1600-1800."
A native Buffalonian, Sam spends his free time following his hometown Bills and Sabres, playing guitar, and reading.