September 17, 2020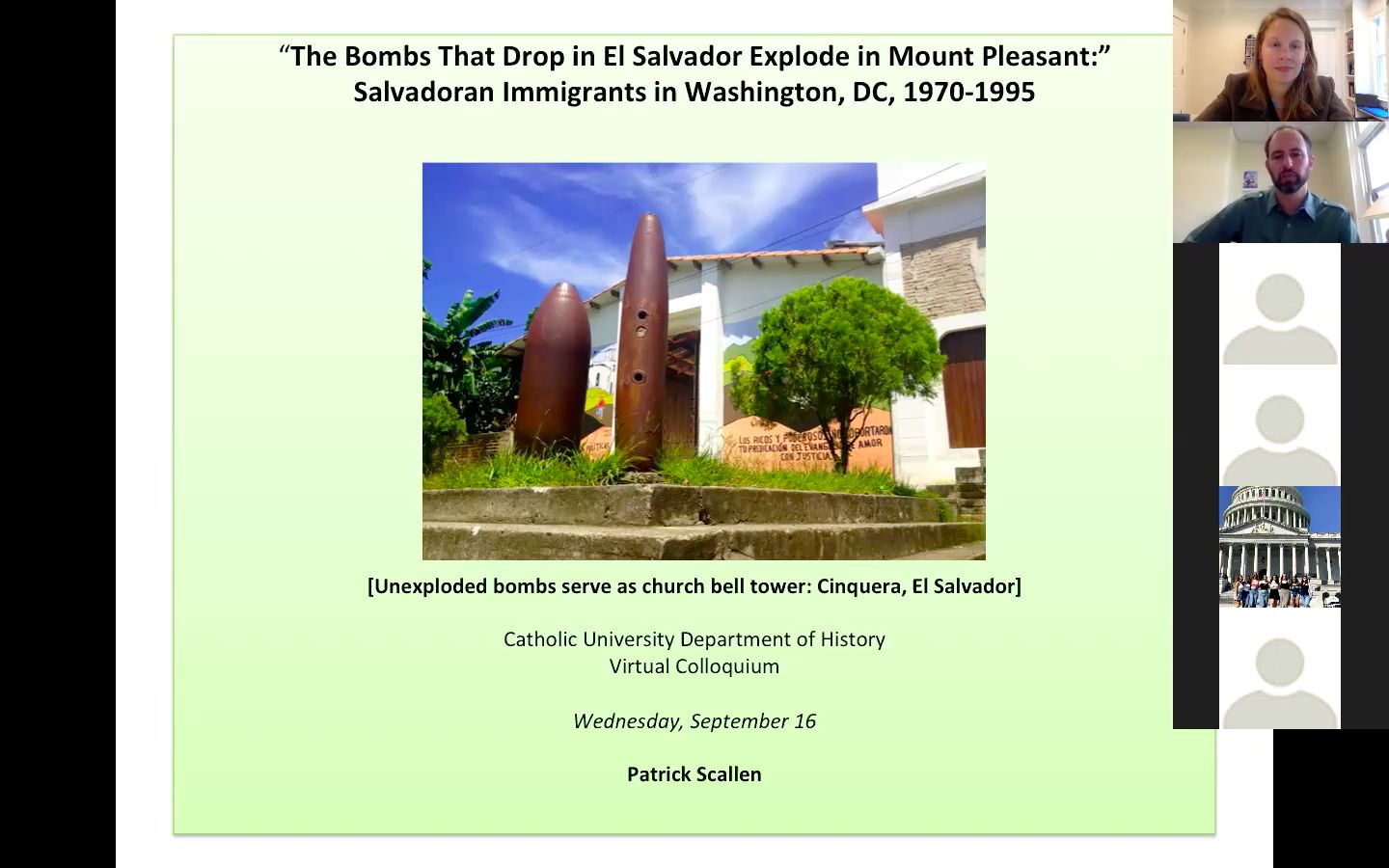 On Wednesday 16 September the Department of History held the first installment for the new academic year of its regular colloquium series.  But one thing was different: this colloquium was online.  With 63 attendees tuned it, the event clearly demonstrated its broad appeal and reach.  A video recording of the colloquium is available here.
"The Bombs that Drop in El Salvador Explode in Mount Pleasant" was a presentation by Patrick Scallen, a historian and professional educator whose research centers upon the history of the Salvadoran immigrant population in the metropolitan Washington, D.C. area. He recently completed a two-year tenure as archivist for the Smithsonian Latino Center's Latino D.C. History Project and currently consults for the Smithsonian National Museum of American History's Civic Engagement Project. 
Salvadorans – D.C.'s largest immigrant population – migrated from a country wracked by economic disparity, social inequality, dashed democratic hopes, and government-perpetrated mass killings. Yet they managed to survive and craft community in the US capital during the 1970s, 1980s, and early 1990s, in part by links with D.C.-based religious leaders, politicians, and community members in the Sanctuary movement and Central American solidarity movement. Their community organizing would produce agencies that protected Salvadoran immigrants from deportation and fought for their civil rights. At the same time, Salvadoran immigrants developed relationships with the city's growing Latino community as well as with its African American majority, in the context of growing racial tensions on the street, in public schools, and at city hall, including the spate of urban unrest that rocked D.C.'s multiethnic neighborhood of Mt. Pleasant in early 1991. In the aftermath of the Mt. Pleasant riots, Salvadoran activism has continued within the broader context of a rapidly changing national capital region.
Related News