March 10, 2020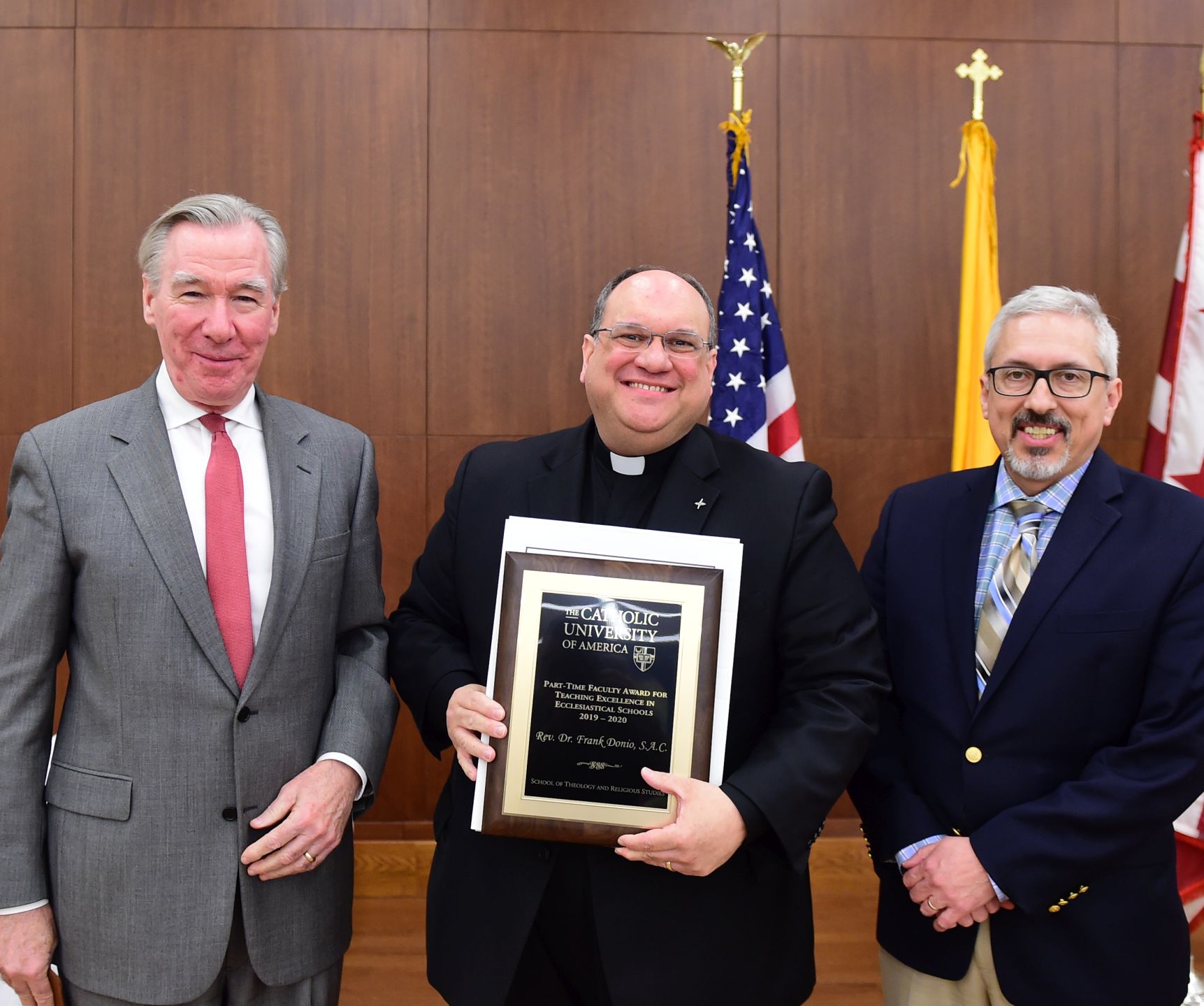 On March 5th, Catholic University President John Garvey and Provost Aaron Dominguez presented Part-Time Faculty Teaching Awards to three recipients drawn from across campus.  Among those honored was Fr. Frank Donio S.A.C., who earned his B.A. in History summa cum laude and Phi Beta Kappa (1989), and went on to earn an M.A. in Church History (1993) and a D.Min. in Adult Spiritual Formation (2012) from the University.
Frank is a member of the Society of the Catholic Apostolate (Pallottine Fathers and Brothers), and serves as Director of the Catholic Apostolate Center in Washington, D.C.  His service to Catholic University has spanned many years, including his roles as chaplain to the Catholic University of America Council of the Knights of Columbus and as past president of the University's Alumni Association.
Frank says "When I came back to Catholic University in the fall of 2006 to do doctoral work, I had little idea that I would be doing any teaching, since the Doctor of Ministry program usually does not include that possibility."  The University's Office of Campus Ministry soon thereafter invited him to assist in its pastoral work, leading to an ongoing engagement with undergraduates which he especially values.
In 2009, the School of Theology and Religious Studies asked Frank to offer a course called "The Practice of Pastoral Ministry", which he has since taught over the course of eight semesters (2009-2013 and 2016-2019) and will continue in future.  He has also taught a course called "Mission of the Contemporary Catholic", and intends to design and teach a new course on Catholic mission and evangelization.
Reflecting upon the relationship between his time as an undergraduate and, now, his teaching role, Frank observes "Teaching undergraduates back at the school that taught and formed you is an honor and a pleasure.  I especially enjoy the opportunity to assist them in broadening their view of the world as well as their understanding of the Catholic Church.
"While I have many examples for teaching, I often go back to those of my undergraduate years, particularly professors from the History Department.  In particular, the Junior Seminar experience stands out as exemplary of a dialogical model of teaching that I prefer.  Dr. Ronald Calinger and Dr. Lawrence Poos led fascinating conversations based on the books that we would read for class.  They knew how to draw us out into a deeper conversation and see beyond what was in the text, to how each historian approached the subject at hand.  Those conversations were stimulating and enlightening.  I hope the same can be said for the conversations in the Practice of Pastoral Ministry seminar that I teach today."
Related News