May 11, 2018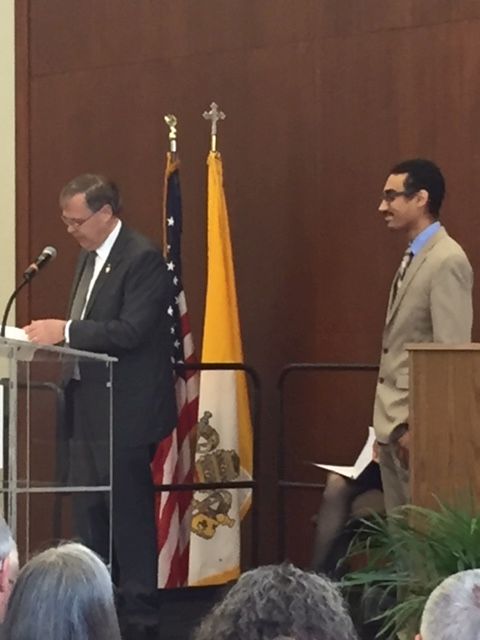 Dr. Marc Sebrechts (Professor and Chair, Psychology),
President of Catholic University's Phi Beta Kappa Chapter,
reads the announcement of award
The Catholic University of America's chapter of Phi Beta Kappa (Beta of D.C.) has awarded the James Marshall Campbell Award for 2018 to Luis Agustin Rivera, a double major in History and in Media and Communication Studies and a member of the Class of 2018.
Monsignor Campbell was for many years Dean of the undergraduate college at Catholic University; it was largely through his efforts that the university's chapter of Phi Beta Kappa came into being in 1941. The award that bears his name is granted each year to a graduate, chosen by members of Phi Beta Kappa, whose outstanding scholastic achievement best exemplifies the ideals of the society.
As a double major, Luis wrote not one but two senior theses. His senior thesis in History – "Puerto Ricans Are Americans Too: The Statehood Debate and Second-Class American Citizenship in Puerto Rico" – is an ambitious analysis of the relationship between the U.S. and Puerto Rico.  He focuses on the series of referendums on which Puerto Ricans have voted in order to determine the island's political status.  Luis's thesis in Media and Communication Studies – "Lying and Deception in South Park and Game of Thrones" – is a nuanced investigation into how these two conventional TV shows, which exemplify the genres of cartoon satire and serialized fantasy respectively, engage viewers in sophisticated analyses of the nature of falsehood and the moral complexity of deception, raising many of the same core issues (and sometimes questioning them) that arise in canonical philosophical and psychological literature on lying.
The Phi Beta Kappa chapter's citation for the Monsignor Campbell Awards notes that Luis has great intellectual curiosity, range, and ambition, with well-developed interests not only in history and communications but also in public policy, literature, and the arts. Last summer he served as an intern for Jacinda Ardern, a member of the New Zealand Parliament who became Prime Minister in October. He is also a talented writer and filmmaker, and he recently completed a novel that he plans to publish. His instructors describe Luis as rigorous and detail-driven, inquisitive and friendly, and concerned for the department and his fellow students. One faculty member wrote that "Luis took his work seriously and always went over and above what was required – not out of overkill or grade seeking, but because he got passionately involved in his work and has a real hunger for learning," while another said that "from the time I met Luis, I knew he would be successful. It seems to me, once he sets a goal for himself, he achieves it." 
After the announcement of the award, Luis commented, "This was totally unexpected – it's a great honor.  And I'll miss CUA!"
Related News