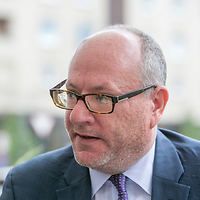 Department
History
School
School of Arts and Sciences
Expertise
U.S.-Russian relations
Cold War history
American diplomatic and intellectual history
Michael Kimmage specializes in the history of the Cold War, in twentieth-century U.S. diplomatic and intellectual history and in U.S.-Russian relations since 1991. From 2014 to 2016, he served on the Secretary's Policy Planning Staff at the U.S. Department of State, where he held the Russia/Ukraine portfolio.
His next book, The Decline of the West: An American Story, is forthcoming with Basic Books. It is a study of transatlantic relations and U.S.-Russian relations from World War I to the present.
Professor Kimmage has published three books to date: The Conservative Turn: Lionel Trilling, Whittaker Chambers and the Lessons of Anti-Communism (Harvard University Press, 2009); In History's Grip: Philip Roth's Newark Trilogy (Stanford University Press, 2012); and Wolfgang Koeppen's Journey through America (Berghahn, 2012), a German-language travelogue published in 1959 and translated by Professor Kimmage. 
Professor Kimmage has written articles and books reviews for the New York Times, Washington Post, New Republic, Frankfurter Allgemeine Zeitung, Jewish Review of Books and Los Angeles Review of Books. He has been a visiting professor at the Ludwig Maximilian University in Munich and at Vilnius University in Lithuania.
  Click here for vita.